Customer Reviews
Love them They look great
Love them They look great
Top quality product and service, timely delivery. Particularly liked the ability to review a "draft" version of the requested product before giving the "thumbs up" to proceed. Our 94 year old Godmother loved her photo socks!
These socks are AMAZING. The photo quality is clear, and the sock material is surprisingly soft and high quality. Also, the people running this shop are wonderful. I ordered later than I should have and still hoped to receive them by Christmas. The shop worked extremely quickly, and I received the gift with time to spare. I messaged them numerous times (I'm sure I drove them crazy), but they always responded promptly. I am very pleased!!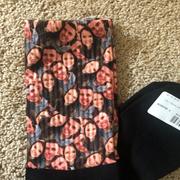 Love these!! Sellers were very attentive and responsive. Would recommend.
LOVELOVELOVELOVE the bottom of the sock is fuzzy and soft and they're so cuuuuuute This is my 4th order from guestbookery and they have been Ah-Maaaaazzzzzing
I can't believe how quick the service for custom socks was and how cute they are. After ordering a few pairs I am now logging in to order more - Christmas shopping is done!